The Gospel and Power in Ministry
1-3 May 2017
Power is seductive. Absolute power corrupts absolutely.
And yet, we need it. We literally need power to run anything.
There is power in you. Power in your wallet. Power in your brain. Power in the environment. Power in knowledge. Where there are human beings, power will be harnessed, expended, exploited, or used for good.
But in God's world, Christians cannot be blind to the corridors of power in this world. From the moment we relinquished autonomy and surrendered to the Christ to follow Him, we were freed from one power, to come under another, greater, power.
And so, how have we been serving under this great power of God?
Are we living God-powered lives? Doing powerful ministry?
Or have we been advancing our own causes? Are we blind to the power available to us?
---
Some Christians live under the belief that all things are dependent on what the demonic forces do. Others simply ignore this reality.
Some churches are plagued by conflicts of power, as opposed to being united by God's amazing power in His gospel.
The Resurrection of Jesus calls for a correction and clarification of our belief and behaviour. The Cross manifests God's power, demonstrating his superiority over evil, and assuring Christians that He rules over everything. His powerful resurrection of His Son teaches all Christians that they have been freed from sin, purchased by the powerful Son in His powerful death.
In a world that hates God's rule (Jn 7.7), it is critical that Christians are not seduced by evil, but are instead led by Christ through His Spirit's teaching of the Bible. The Bible's power and authority over us must continue to be felt in every aspect of ministry, as it was during the Protestant Reformation.
---
FWC 17 continues the series on Jesus' Kingship over His church with this key treatment on God's power in His Son's kingdom.
Come and enjoy the power of God in His revealing of Himself in His Son. Be humbled by His word to become more like the Son, the powerful servant of God.
Understand the true power of God's word seen in the Gospel, a deep and humbling demonstration of God's powerful and loving righteousness. A power that can never be defeated. A power that makes all of us His servants.
Let us come together to learn and pray for God to strengthen his church with power through his Spirit in our inner being so that Christ may dwell in us through faith and we may have strength to know Christ's love, and be filled to be everything God wants us to be (Eph 3.11-21).
Rev. Robin Gan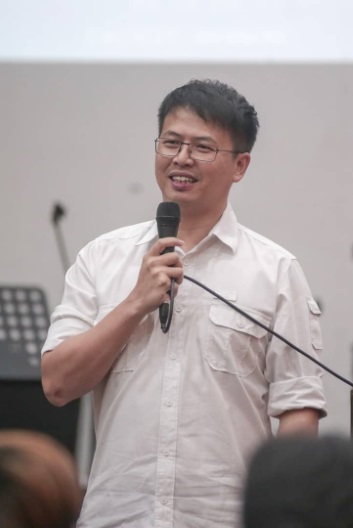 Founding Elder, Christ Evangelical Reformed Church (2008-Present)
Founder, Gospel Growth Fellowship (2007)
Deacon, Anglican Diocese of Malaysia (2006-08)
Curate, St. Andrew's Cathedral (2005)
Curate, St. Paul's Kogarah (2004)
Curate, FOCUS UNSW (2002-03)
Bachelor of Divinity & Diploma of Ministry, Moore Theological College (2002-05)
Ministry Training Strategy under Philip Jensen (2000-01)
Regional Marketing for Sony Asia Pacific (1997-99)
Youth and University Work Leader in Adam Road Presbyterian Singapore (1997-99)
Bachelor of Commerce, UNSW Australia (1996)
For more than 20 years, Robin Gan has been ministering to students and adults from a wide variety of churches. His concern is for the gospel to grow churches in Malaysia through faithful ministry of the Word of God. He currently pastors CERC, a church that has raised many young leaders to be committed to Jesus' mission.
Above All Earthly Pow'rs
David F. Wells
ISBN: 978-0802829023
God in the Whirlwind: How the Holy-love of God Reorients Our World
David F. Wells
ISBN: 978-1433531316
No Place for Truth
David F. Wells
ISBN: 978-0802807472
Reading the Word of God in the Presence of God: A Handbook for Biblical Interpretation
Vern S. Poythress
ISBN: 978-1433543241
Renewal as a Way of Life: A Guidebook for Spiritual Growth
Richard Lovelace
ISBN: 978-1579108663
The Atonement: Its Meaning and Significance
Leon Morris
ISBN: 978-0877848264
The Christian LIfe: A Doctrinal Introduction
Sinclair B. Ferguson
ISBN: 978-1848712591
Come Praise And Glorify by Sovereign Grace Music
O Church Arise by Keith Getty
But God by The Village Church
Facing A Task Unfinished by Keith & Kristyn Getty
Glorious Christ by Soverign Grace Music
Look And See by The Village Church
Only In The Cross by Sovereign Grace Music
Reformation Hymn by Bob Kauflin & Chris Anderson
The Gospel Was Promised by Soverign Grace Music
This Is The Word Of God by Unknown
This Life I Live by Michael Morrow
Theodicy
Psychology - The power of counselling
Powerful worship
The power of the dollar
The power of planning
The power of the miracle
Size really does matter
The power of method
The power of persuasion
The power of presuppositions