The Gospel & Priesthood
31 Jan - 2 Feb 2018
500 years ago the Protestant Reformation re-established the authority of Scripture in Christ's Church and in so doing, made everyone responsible for careful obedience to Christ in His Word. Where is the Evangelical church today? Are we better off? In a year celebrating this key moment in history, the Gospel Growth Fellowship picks up from last year's Fellow Workers' Conference on God's power, with an FWC on The Gospel and Priesthood. The Bible abounds with metaphors and explanations of what God is doing to and in His church today. But despite the specific details given on how we are to conduct ourselves as His people, many Christians and churches still struggle with the realities of running the church as He intended it to be. Not only is sin always an issue, the struggle to know what the Bible means can be a handicap, and we all need encouragement to be convicted of the Scripture's authority as Christ's rule over us.
Thus, before we turn to consider the issues of heresy, discipline and authority in the coming years of FWC, we should be clear on the ministry we have been called to as God's servant workers. The Protestant Reformation won for us a key doctrine of the priesthood of all believers and we must individually know of Christ's work in His feeding and growing of the saints, including His leading of leaders whose role it is to equip the church for service. Only then can we stay true to the Protestant Reformation's understanding of priesthood without at the same time overthrowing Christ's authority. We will need to be challenged in some of our assumptions, including if we have given too much authority to some individuals or councils in the church, or perhaps we have given too little. We will need to check if our preference for one church over another is more a belief in the world's approach to management from the corporate boardroom model or a reflection our political preferences, more than it does our love for Jesus's rule.
FWC 18 should be a challenging time to be Jesus' church, His holy priests, in His service.
The Gospel and Priesthood.
Who. How. What.
Rev. Robin Gan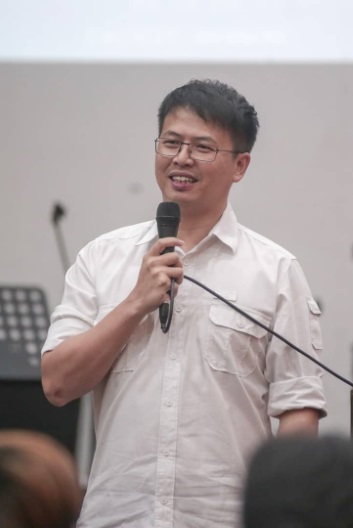 Robin Gan has been teaching theology for more than a decade to students and adults from a wide variety of churches. He trained for ministry in the Ministry Training Strategy and Moore Theological College (B.Div, Dip.Min) in Sydney. He is the founding partner and leader of the Gospel Growth Fellowship. His concern is for the gospel to grow churches in Malaysia through faithful ministry of the Word of God. He pastors CERC, a church that has raised many young leaders to be committed to Jesus' mission.