The Knowable God pt. 3: The Trinity in Salvation
14-17 Sep 2022
The early church recognized that the saving event announced in the gospel was the combined and unified effort of all three members of the Godhead. The Father chooses, the Son redeems, and the Spirit sanctifies. Indeed, apart from a triune God, the gospel does not make a lot of sense. Walter Kasper was right to say that the Trinity is "the summation of the entire Christian mystery of salvation and, at the same time, its grammar."- (God and the Gospel, Kosternberger)
The New Testament itself is proof of the above - witness how the second generation preacher who wrote the book of Hebrews is explicitly Trinitarian:
"how much more will the blood of Christ, who through the eternal Spirit offered himself without blemish to God, purify our conscience from dead works to serve the living God" (Hebrews 9:14).
He is simply following our Lord who prayed thusly:
'At that time Jesus declared, "I thank you, Father, Lord of heaven and earth, that you have hidden these things from the wise and understanding and revealed them to little children; yes, Father, for such was your gracious will. All things have been handed over to me by my Father, and no one knows the Son except the Father, and no one knows the Father except the Son and anyone to whom the Son chooses to reveal him.
Come to me, all who labor and are heavy laden, and I will give you rest. Take my yoke upon you, and learn from me, for I am gentle and lowly in heart, and you will find rest for your souls. For my yoke is easy, and my burden is light."' (Matthew 11:25-30)
Jesus's work cannot be understood apart from Trinitarian relations. The Father sends the Son, the Spirit attends his union with human nature, and the Son bears our sin and the Father's wrath as a man in the power of the Spirit. At the cross, we see a demonstration of the Father's love (John 3:16) by the gift of his Son. The work of Christ as God the Son incarnate, then, is the specific covenantal work designed by the Father, Son, and Spirit to accomplish our eternal redemption.
Continuing our 3-part study of knowing God we come back together in the final instalment after a long break for a study on the Trinity and our salvation. There can be no more important topic in our Christian life than to know God and his accomplishment in salvation according to his three persons.
The Bible teaches and expects the Christian to know God and his works in Trinitarian terms. Dr. Wellum notes that in the New Testament, 'the Father always works through the Son by the power of the Holy Spirit (John 1:3; Colossians 1:16; Hebrews 1:1–3; cf. Genesis 1:2). So, the Son reigns not as a separate God of creation and providence but as a distinct person of the one Creator-Covenant Lord.' (Wellum, S.J., 2016. God the Son Incarnate: The Doctrine of Christ)
A living relationship with God requires that each of the persons be honoured and adored in the context of their revealed relationship with each other. When this principle is distorted, as it constantly is in our everyday experience, spiritual imbalance and doctrinal controversy are the inevitable result.
Without the Trinity there is no Christian faith, because the specific revelation of God entrusted to us in the New Testament is lost from view.
The lesson from church history is instructive as Dr. Gerald Bray observes: 'Whatever we may think of the charismatic movement and its various streams of 'renewal', there can be no doubt that some Christians have isolated the Holy Spirit from his trinitarian relationships and exalted him as the sovereign Lord without reference to the Father or the Son. Yet the Scriptures make it quite clear that the work of the Holy Spirit is to glorify the other persons of the Trinity, and make their work a reality in our lives. There can be no genuine work of the Holy Spirit if Christ is not thereby glorified, and the will of the Father seen to be done. To put it another way, the supreme work of the Holy Spirit is seen in conversion and in the practical work of sanctification which flows from that. Yet today we hear too much about the signs and wonders, about the extraordinary gifts, about 'ministry' in the Spirit which has only the most tangential relationship to the work of Christ, if it has any relationship to it at all.'
There is a great danger of imbalance in our theology including in the fundamental understanding of who God is, and it is the doctrine of the Trinity which will help to correct us. As evangelical Christians we must experience a renewal of solid trinitarian theology to recover the proper balance in our relationship with him— Father, Son and Holy Spirit— so that together with all the saints we may worship and adore him as his revelation in Scripture calls us to do. How else can we worship a God in Trinity who we could not have imagined for ourselves?
Online registration is now closed but if you still wish to sign up or have any further requests you may contact Wei Jie at +60 17-638 8896 or events@ggf.org.my and we will try our best to accommodate you.
Rev. Robin Gan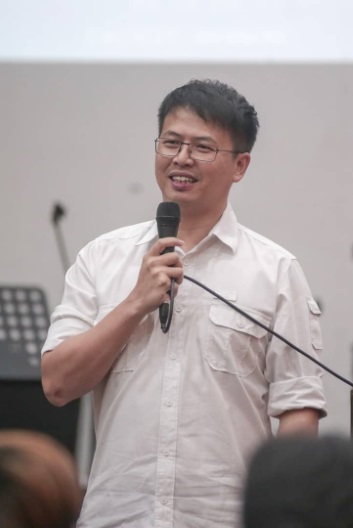 Founding Elder, Christ Evangelical Reformed Church (2008-Present)
Founder, Gospel Growth Fellowship (2007)
Deacon, Anglican Diocese of Malaysia (2006-08)
Curate, St. Andrew's Cathedral (2005)
Curate, St. Paul's Kogarah (2004)
Curate, FOCUS UNSW (2002-03)
Bachelor of Divinity & Diploma of Ministry, Moore Theological College (2002-05)
Ministry Training Strategy under Philip Jensen (2000-01)
Regional Marketing for Sony Asia Pacific (1997-99)
Youth and University Work Leader in Adam Road Presbyterian Singapore (1997-99)
Bachelor of Commerce, UNSW Australia (1996)
For more than 20 years, Robin Gan has been ministering to students and adults from a wide variety of churches. His concern is for the gospel to grow churches in Malaysia through faithful ministry of the Word of God. He currently pastors CERC, a church that has raised many young leaders to be committed to Jesus' mission.
This Is Our God by Sovereign Grace Music
We Praise Your Righteousness by Sovereign Grace Music
King Of Kings by Hillsong
Come Praise And Glorify by Sovereign Grace Music
This I Believe (The Creed) by Hillsong
The Lord is My Salvation by Keith & Kristyn Getty
Grace Alone by Modern Post
Heavenly Father, Beautiful Son by Sovereign Grace Music
A Mighty Fortress by Martin Luther
Holy, Holy, Holy by Reginald Heber
Praise the Father, Praise the Son by Chris Tomlin
Let Your Kingdom Come by Sovereign Grace Music
Arminius, the Son, and Salvation
Calvinism: His Trinitarian View of Salvation
Christians and 'Falling Away' and Apostasy
Christological Heresies: A Quick Education, and Lessons to Learn
The Feminist Salvation
The Gospel in Malaysia
How to Evangelise
How to Save the Youth According to Jesus
Islam and the Trinity
Liberal Salvation
Mission
The Patristics and Their Trinitarian Thinking
Pelagianism and Semi-Pelagianism
Pneumatological Heresies and Mistakes
Roman Catholicism: Trinitarian, but a Different Soteriology
Teaching Children to Know the Father, Son and Spirit
The Trinity and Christian Education/Nurture/Discipleship
The Trinity and Liturgy
The Trinity and Music
What God the Trinity Would Say to Millennials
Women, Family and Salvation
1. What happens at TTC?
Challenging talks on the doctrine of the Trinity in salvation
Seminars for guided interaction
Smaller groups to work hard at reading the Bible for ourselves
Seminar Electives and Network time to get our minds into gear for ministry
Free time and outdoor games for a break with God's people
Q & A to wrestle with important questions together with the speaker
Prayer in dependence on God's teaching
2. When can I sign up for the TTC electives I want to go for?
Registration for electives will be open during the conference itself.
3. I'm a student without transport, how do I get there?
We will be arranging transport for students from campuses in the Klang Valley, so please indicate if you need a lift when you register.
4. What if I can't make it for the full four days?
In general, we encourage a full conference experience for our participants. You can sign up first and let us know about your situation in the 'Special Requirements' section (e.g. "I can only come for Day 3-4 due to ______ ") and you will be placed on a waiting list.
5. Will a virtual option be available for the conference?
Unfortunately, no, TTC is a fully physical conference. Hope you can do your best to make it!
6. I have trouble paying the amount in full by the 14th of September. Is there an instalment option available?
Yes, do drop us an email at ttc@ggf.org.my on your financial situation before the due date. You may be eligible to pay a minimum deposit first (RM50 for Concession & RM100 for Normal/Family Package) required to secure your registration.
7. Do I need to pay in full by 7th Aug to enjoy the early bird price?
Yes. Unless you have any special financial arrangements with us (refer to #6).
8. Do I need to pay in full before attending the conference?
Yes. Unless you have any special financial arrangements with us (refer to #6).